Soccer Manager Worlds – Stadium Building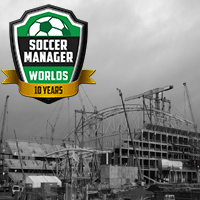 Posted on 18th January 2016
On 2 December, 2015, we relaunched Soccer Manager Worlds to celebrate our 10th anniversary. Part of this relaunch included revisions to how attendances and stadium building work.
We always listen to our communities feedback and monitor any changes that we make to the game. At this moment we are currently making several changes to how the Game World economy works. The first of these changes is adjustments to the allocation of prize money.
The next change that we are making is in relation to stadium increases.
We did state in past articles that:
"Any increases to your stadium happen at the start of a new season and it won't cost your club any money as the Chairman will pay for the costs out of his own pocket."
This is still the case but as a one off to bring club's up-to-date and in-line with the changes, you may have noticed that your Chairman has reviewed and possibly increased your stadium capacity.