Profiling Matheus Pereira – The Corinthians Wonderkid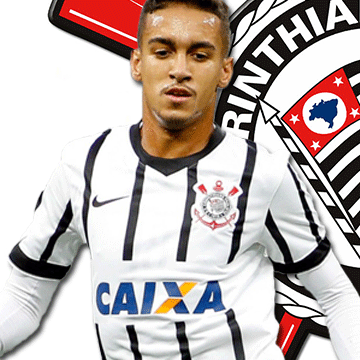 In the city of Sao Paulo, Brazil, you will find one of the most successful clubs in South America: Corinthians, the Timao.
Corinthians have been home to some of the best Brazilian players of recent times such as Adriano, Pato, Ronaldo and so on. Within this glorious club there's a young player who is on his way to becoming a star: Matheus Pereira.
This youngster has played for Corinthians since the age of 11. He started playing for the first team in the Copa do Brazil against Santos, under the guidance of the Corinthians' coach Tite. He hasn't made that many appearances for Corinthians, but has played for the Under-17 squad and won Under-17 Club World Cup.
Some Corinthians fans remember him for having missed a penalty in the Copa Sao Paulo final against Flamengo, which ultimately cost his team the trophy. He attempted a Panenka but it ended up hitting the bar and he was the only one from his team to make a mistake. His coach will have reprimanded him for his haughtiness, but in a way this shows his courage. He cried after missing the penalty, which demonstrated his loyalty and affection for the club.
However, with the Under-17 team, he has scored some beautiful goals, for example the one against Barcelona or the stunning goal from midfield against Sporting Crystal.
His nickname is Pirulao, which represents a tall, thin man. He's just a boy but he is 1.81 m tall. He's left footed. He can play as a playmaker or CM and his best qualities are tackling, passing and dribbling. He's very skillful but like many left-footed players he doesn't make use of the right foot very much. He has to improve his physical endurance, mentality and become more aggressive before he will be ready for a move to Europe. Especially in Italy, where Juventus FC appear to be interested in him, physical qualities and an aggressive mentality are vital.
Now Matheus Pereira is 18 years old and he's dreaming of a transfer to Europe: what will happen to this rising Brazilian star?
He's a transfer target for Barcelona, Juventus and Real Madrid. He's valued at 2 million, but with the rumored battle for his signature, this could lead to a significant increase in his price.
The two Spanish destinations could be the best for him, but he won't be more than a member of the youth team. There he will have to compete against other young talents and fight hard to show his qualities. Signing for Juventus instead could mean that he would have more opportunities to become a first team player much sooner.
Whatever happens we hope to see another hot prospect from Brazil showcase his talents on the European stage!
About the author – Marco Santanche
Marco was born in Rome and supports Inter because of Luiz Nazario Da Lima Ronaldo. He is a Brazilian citizen because of his father's roots. He played futsal for several years, even in the FIGC (Italian FA) as a winger, playmaker and striker. He is now studying for a degree in finance.