10 Serbian Youngsters Destined For Glory – Part I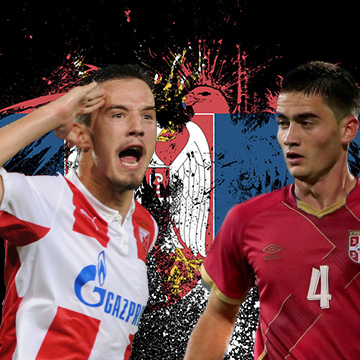 Serbia has a long tradition of developing talented footballers who, unfortunately, often leave the country at young ages, sometimes even before making a professional debut, on their way for stardom.
The latest batch of Serbian youngsters is no different and many of them have already broke through at famous clubs, but there are still a lot of Serbs who deserve far more recognition than they are currently receiving.
This article will present the Serbian footballers who still haven't caught the eye of well-known clubs and agents, meaning that many famous Serbs will be omitted from the list despite their unquestionable talent. For instance, the likes of Aleksandar Mitrovic (Newcastle United), Filip Kostic (Stuttgart), Sergej Milinkovic-Savic (Lazio), Marko Grujic (Liverpool) need no introduction and will therefore be excluded from the list.
Before we proceed with Part I of our list, let us first highlight the honorable mentions, the promising youngsters who barely missed out on a place in the final cut: Luka Jovic (18, SL Benfica), Ivan Saponjic (18, SL Benfica), Andrija Pavlovic (22, Cukaricki), Boris Radunovic (20, Atalanta) and Srdjan Babic (20, Real Sociedad).
Sasa Zdjelar (21, Olympiacos)
Sasa Zdjelar has spent the last few years between OFK Beograd and Olympiacos, occasionally playing for both clubs with varying success.
It was clear that Zdjelar is a talented defensive midfielder when he broke through at OFK Beograd in 2013, but his early move to Olympiacos and consequent loan spells at OFK Beograd have apparently done him no good, as his progess has worryingly stagnated in the last couple of years.
Zdjelar is still an immensely talented kid, but he needs to find a club that will offer him a competitive place in the team rather than spend most of his days warming the bench at Olympiacos.
Once Zdjelar secures a transfer out of Greece and that is only a matter of time right now, he will be able to kickstart his career and hopefully fulfil his potential. Don't write him off just yet.
Miroslav Bogosavac (19, Partizan)
Bogosavac is yet another youngster who came out of the famous Partizan academy in recent years, but unlike most of recent graduates, he is a defensive player who usually plays in the left-back position.
He has been a mainstay in Partizan since he debuted earlier this year and his performances have generally been solid, if unentertaining at times—the 19-year-old dully fulfilled his defensive duties throughout the season, but his reluctance to go forward will need to be addressed in the coming season.
Once he develops further and starts feeling comfortable going forward, he will be a potent addition to any side, let alone Partizan.
Vukasin Jovanovic (20, Zenit St. Petersburg)
Although he has just moved to Zenit St. Petersburg, the career and the playing style of Vukasin Jovanovic bear ample resemblance to the aforementioned Sasa Zdjelar.
Jovanovic is perhaps a bit more versatile than Zdjelar, as he is capable of playing both as a playmaking center-back or as a robust defensive midfielder. Judging by Jovanovic's performances in Crvena Zvezda before he signed for Zenit, there is little doubt he has the skills required to become a regular international for Serbia.
However, his career choices may come back to haunt him.
The past six months have been rather disappointing for the 20-year-old defender who spent most of his time playing in the Zenit youth setup—he will be hoping for more first-team involvement next year, but that is far from guaranteed.
Similar to Zdjelar, the following season could prove to be decisive for his development and he will be wise to revise his options elsewhere, either on loan or on a permanent move.
Predrag Rajkovic (20, Maccabi Tel Aviv)
Although still only 20 years old, Predrag Rajkovic is an experienced goalkeeper who has already featured extensively for Maccabi Tel Aviv in both the Israeli Premier League and the Champions League.
Generally speaking, Rajkovic is a fantastic shot-stopper who is not afraid to step out of his line, but there is still a lot of room for improvement, as his focus can sometimes get lost in the worst possible moment, which usually results in needlessly conceded goals.
To be honest, Rajkovic has conceded plenty of goals this year (16 goals in 6 Champions League matches for instance), but his performances cannot be judged in a simplistic view of this daunting statistic—the Maccabi defence showcased a blatant inability to defend and a tendency to fall apart in a matter of minutes on numerous occasions (e.g. vs Porto or Chelsea). Were it not for Rajkovic, they would probably have ended their Champions League run in an even worse manner.
Further, Rajkovic has reportedly already received several transfer offers from Europe and it may not be long before we see him at a better club.
Mirko Ivanic (22, BATE Borisov)
BATE Borisov were quick to secure the signing of Mirko Ivanic once it was clear that he had no intention of extending his contract with Vojvodina, as he had long outgrown the Serbian SuperLiga.
The former Vojvodina midfielder has had certain trouble adapting to his new environment following his move to Belarus, but he has already shown glimpses of his fascinating abilities in the limited playing time he has been offered so far.
The jury is still out on Ivanic, but he might prove to be as every bit as talented as Marko Grujic, if he is able to overcome his current difficulties.
About the author – Dusan Lucic
Dusan has been writing sports-related articles for 5 years and has a keen interest in the Premier League, Bundesliga and Serbian SuperLiga. He has previously written for Bleacher Report, Arena Sport, Sportal and the News Hub. He is currently studying Serbian language and literature at the University of Belgrade.