10 Serbian Youngsters Destined For Glory – Part II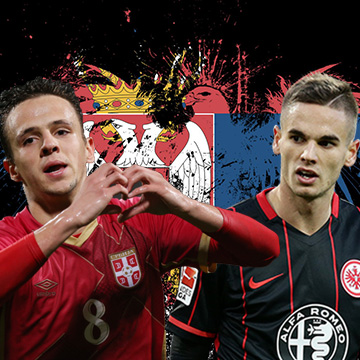 Before we proceed with Part II of our list, let us first re-visit Part I and Nos 10-6 which you can read here.
Nemanja Maksimovic (21, FC Astana)
Nemanja Maksimovic burst onto the international scene when he scored the winning goal in the U20 World Cup final last year, which quickly earned him a move to Kazakh champions FC Astana.
Since then, Maksimovic has been a regular starter in a decent FC Astana team that even managed to qualify for the UEFA Champions League group stage this year. Although Astana's Champions League journey has largely been a forgettable affair, Maksimovic has played out some impressive games, receiving some much-needed appraise from local journalists.
A defensive midfielder by trait, Maksimovic can still score an odd goal or two and if his progress continues at the current rate, he may well follow in the footsteps of Nemanja Matic.
Srdjan Plavsic (20, Crvena Zvezda)
Marko Grujic may have stole the spotlight in Crvena Zvezda this year, but Srdjan Plavsic's performances have not gone unnoticed either.
Capable of playing in the centre of the midfield or as a winger, Plavsic is a versatile attacking midfielder whose lightning speed and keen eye for through-balls added a new dimension to the Crvena Zvezda record-breaking forward line.
The recent transfer of Grujic to Liverpool will hopefully allow Plavsic to finally step out of Grujic's shadow and build on his solid performances that saw him register 2 goals and 12 assists in 35 outings in the Serbian SuperLiga.
If he can continue his progress, there is no reason to doubt he will become a regular international in due time.
Mijat Gacinovic (21, Eintracht Frankfurt)
Gacinovic is yet another player in the long list of talented Serbian wingers who have recently caught the attention of international media.
The former Vojvodina player has spent most of the current season on the bench, unable to cement a regular starting spot in the Bundesliga minnows Eintracht Frankfurt. However, all that changed in the relegation play-off against Nuremberg, as Gacinovic started both matches and played a crucial role in securing Bundesliga football for at least one more year.
If he is able to build on his recent performances, Mijat Gacinovic will probably be awarded with more regular opportunities to showcase his immense talent.
Andrija Zivkovic (19, Partizan)
You may have heard of Andrija Zivkovic earlier this year after his dazzling performances in the Europa League—he eventually finished his Europa League season with an impressive record of four goals and two assists in mere five appearances.
However, Zivkovic has spent most of 2016 in the dark, as a result of a controversial contract dispute with Partizan that ended with the youngster removed from the squad. This minor setback has done him no good, but he is still a very talented player ready to take on any opponent.
Certain Partizan representatives have already dubbed him for stardom and Zivkovic has often been called a more talented version of Lazar Markovic, due to prevalent similarities in their playing styles.
Nemanja Mihajlovic (20, Partizan)
Once Andrija Zivkovic was removed from the squad, Partizan quickly needed to find a suitable replacement on the wings and, unsurprisingly, they turned to another recent academy graduate—Nemanja Mihajlovic.
The 20-year-old winger soon became unstoppable, dribbling past the opposing defences with relative ease and releasing his teammates with precise through-balls time after time. After only a handful of games, Mihajlovic not only cemented his starting place, but became the key player in a powerful Partizan side that eventually secured Europa League football next year.
Soon enough, the fans recognized Mihajlovic's performances and found an interesting way to pay respect to him, regularly chanting his name and calling him a more talented version of Andrija Zivkovic.
In the end, hard work paid off for the 20-year-old winger, as his first senior season with Partizan proved to be an incredible success with as many as 10 goals and 17 assists in only 25 appearances.
Remember this name—this kid is going is places.
About the author – Dusan Lucic
Dusan has been writing sports-related articles for 5 years and has a keen interest in the Premier League, Bundesliga and Serbian SuperLiga. He has previously written for Bleacher Report, Arena Sport, Sportal and the News Hub. He is currently studying Serbian language and literature at the University of Belgrade.